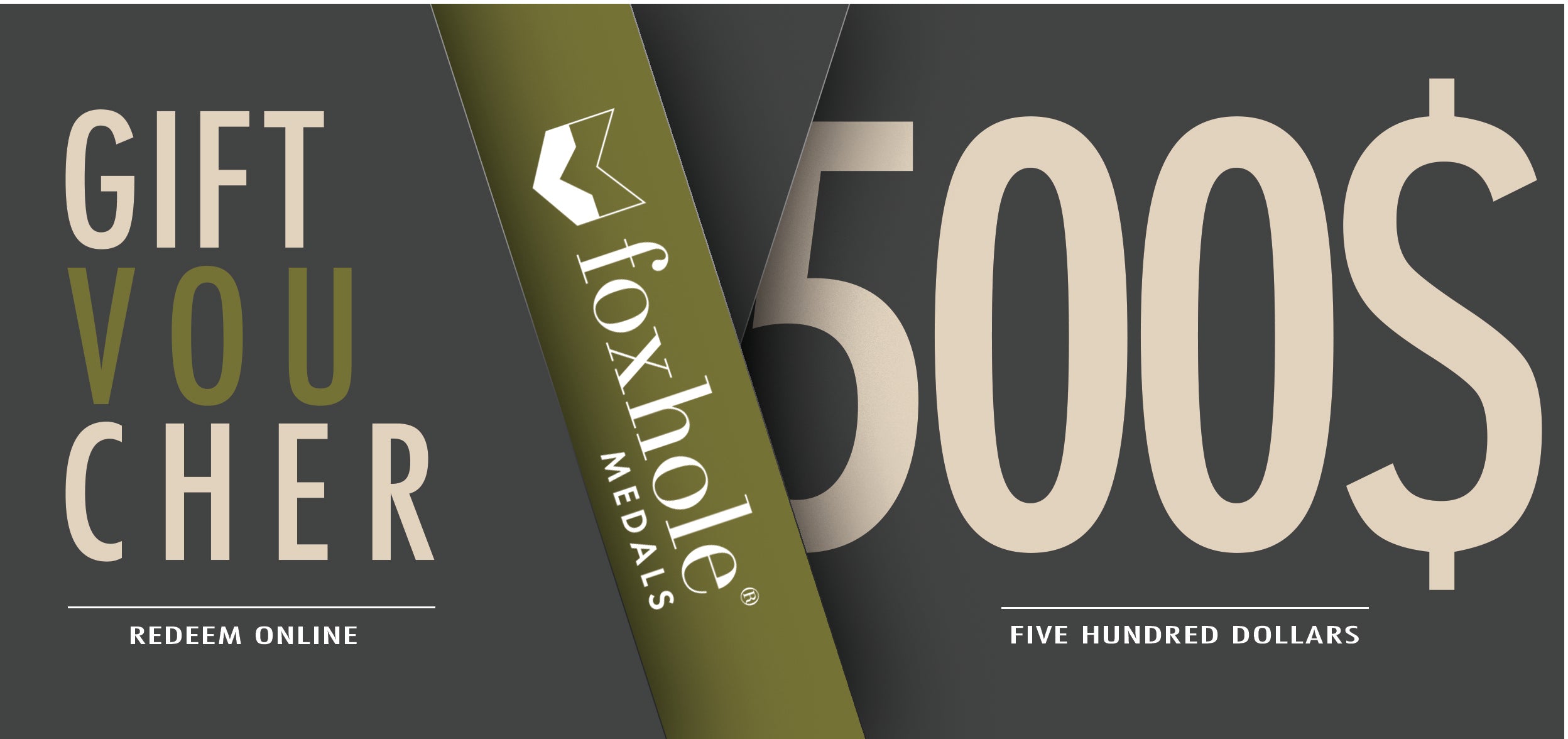 Gift cards are delivered by email and contain instructions to redeem them at checkout. You can also print them out to include in a card if a physical gift is desired. Our gift cards have no additional processing fees and no expiry date.
How to:
Choose the right medal size
There are two sizes of medals to choose from: 
Small (known as Miniatures)
Large (know as Full Size)
Large or Full Size Medals are the size traditionally worn at ANZAC Day ceremonies. It is the size historical imperial medals (eg WW1, WW2, Korea, Vietnam, etc) were originally issued prior to the Australian Honours & Awards system being instituted in 1975. Since then, an original set has comprised a full size medal, miniature medal, and ribbon bar in a protective case.
Full Size Medals are also able to be engraved with the service person's service number, initials and surname as the originals would have been
How to:
Choose the right mounting style
We can prepare your award for wear. Simply add a mounting service to your purchase. Both styles still have a brooch bar on the back to enable them to be worn on clothing. If none of the above criteria are relevant to your order, you are free to go with personal preference.
VIEW MOUNTING SERVICE
Mount Style:
Court Mounted
Court-Mounted Medals have a backing board behind the medals to which each medal is sewn to minimise noise and movement. This does obscure 2/3 of the reverse of the medals.
Mount Style:
Swing Mounted
Swing Mounted Medals allow an unobstructed view of both the front and back of the medals, but do also leave them prone to impact damage. Serving Defence members are not permitted to wear their groups swing mounted.
There are generally four things to take into account when deciding the best mounting style for your medals:
FAQ's
Is it legal to buy replica medals?
Yes, it is legal to buy replica medals. Generally, only one set of original medals is ever issued by the Governor General or Dept of Defence Honours & Awards. Because of this, it is common practice for recipients to put the original away safely and wear replicas so that they can be replaced if they are lost. This practice is endorsed and encouraged by the Dept of Defence Honours & Awards.
I have an existing set of replicas but have just received a new award. Do I need a new set of replicas?
You absolutely do not need to buy a brand new set of replicas - in fact you'll save yourself some money if you send your existing full size and miniature medals into us together with any pieces of ribbon bars with rosettes we can recycle for you.
Can I have the full size replica medals engraved with my family member's details?
Absolutely! We have a state-of-the-art computer engraving machine that is perfect for engraving your full size replica medals. The addition of engraving creates a beautiful heirloom set with moving sentimentality (many of our engraving customers confess shedding tears) as well as a starting point for future generations for family research, or simply a medal set that can be easily be returned to you post-ANZAC Day shenanigans.
Is a ribbon bar included with my purchase of full size medals?
No, you will need to order your ribbon bar separately to your full size medals. We can arrange for each piece of your ribbon bar to be joined together at your request (or have plastic coating added if you work in Emergency Services).
How risky is sending medals in the post?
Services
Professional medal services
We offer premium mounting and engraving services to complete your medal set.
view All